Yarn Review
Because my knitting progress is slow, and I want to contribute some knitting content for a change, I've decided to do a brief review of the yarn I'm using right now for the ARRRRRGGGGHHHHHHyle sock.
Dalegarn Baby Ull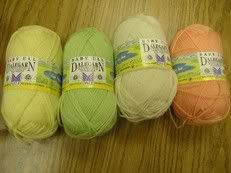 Description:
100% Wool
Made in Norway
This 4-ply wool is a fingering yarn.
Recommended gauge for Baby Ull is 32 stitches per 4 inches (10 cm) using U.S. size 2 (2.5 mm) needles
A description from the website reads,
"Dale Baby Ull is spun from only the finest Merino Wool, combed to create a supremely soft yarn. This yarn is superwash treated and is machine washable."
One ball of Dale Baby Ull is 192 yards (175 meters)
Each ball weighs 1 3/4 ounces (50 grams)
It is available in 32 colors, some are more pastel and infant like, while other colors are bolder for children.
I have never worked with this wool before, but I have read the comments of many other bloggers who have. Everyone seems to like it. Its' softness and the fact that it is machine washable is truly appealing for use in garments to be worn by very small children and infants. After the hours spent carefully and lovingly knitting a garment for a baby, it would be a shame for that garment to never be worn because a parent is in fear of spit-up stains that could not be washed out easily. The company claims that garments made from Baby Ull will retain their shape and crispness after several washings, but I have not been able to test this.
The wool has a wonderful feel as it is worked. It is very soft. The fabric it creates has a nice drape, and looks crisp. The wool is not easy to work with, as the knitting needle frequently splits the 4-ply in half, so knitters need to carefully watch as they work. It is also diffioult to rip out stitches because of the ease in splitting the 4-ply.
It seems that there is never an end to the need for baby gifts. Knitters with good time management skills are able to work on knitted gift items early, sometimes before parents even know they are expecting. The rest of work feverishly into the late hours of the night, click-clacking away to finish a gift that must be given the next day. Both knitters will agree that this is a great material choice. Last-minute knitters will most likely use it for small projects, while those who are able to plan ahead will create beautiful garments that will stand the test of frequent spit-ups while still looking great.
Oh, and by the way
All of you who were able to go to Rhinebeck, I don't want to hear about it ANYMORE! I am insanely jealous, and the wonderful stories of meet-ups with other bloggers only make me feel like I HAVE NO LIFE! Then, I get to see all of your pictures. Stop it, already!
Pfew! I feel much better getting that off of my chest.