Back to the drawing board
Remember this?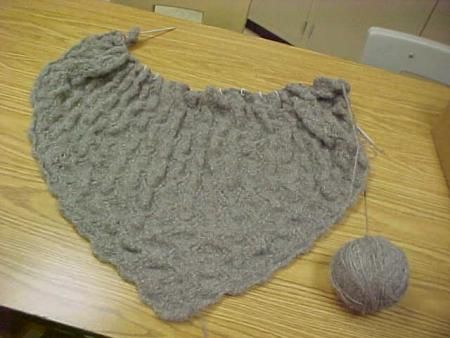 Well... I have decided to tear it apart and make Traveling Shells from Vogue Spring/Summer 2004. Tear it apart? Did I really just say that? I have sweat and toiled over this thing and have been proud of it's laciness. I have spent hours just trying to figure out what row I was on after having let it sit too long. But, I just wasn't happy with the Sassy Shawl, even though I have spent about 8000 hours working on it from the designing stages to the knitting hours. I must be crazy to rip it apart, though. Seriously crazy.
I don't have anything I like to work on right now, but I love this alpaca wool, so I thought ripping out the shawl and starting the Traveling Shells might be the ticket to get out of the Knittin' Blues. I tried to find a picture of the pattern from Vogue Knitting's website, but they only have the most recent magazine listed to preview. Trust me, it is yummy. And I will still make it for my sister-in-law who gave me the wool...maybe I will give it to her. How naughty of me!
Ok.. I am skirting around the real issue here. You are reading this waiting to hear if I have gotten the mitten done. Nope. Maybe tonight, but I wouldn't hold my breath.