And We Have..... A BRAID!
Here it is so far, the Latvian Mitten.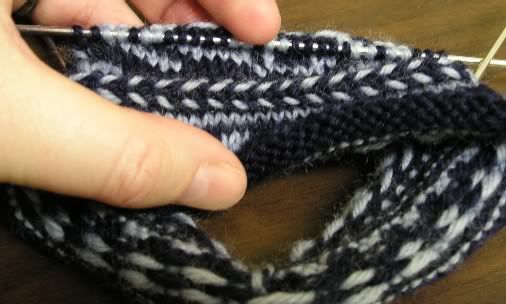 I am so proud! It's almost like holding a newborn. I worried and worried about it beforehand, and took every precaution to make sure it would turn out all right. The braid turned out beautifully. I'm now like all of the other Latvian Mitten knitters who become obsessed with these patterns. I spend every waking moment wanting to work on it and see it grow. Even though I've worked multi-color patterns before, this is addictive. Is it the delicate stitches? The mathematical genius of the patterns? The intricacy of the patterns? I have no clue, but I WANT more!
Tune in next time... when hopefully some medication will ease my obsession with these mittens!