Lists-a-Plenty
Last night I went to bed in Wisconsin. You know, a foot of snow on the ground, coats bundled tight, frozen tundra, all of that. When I woke up this morning, I had no idea where I was. All of the snow was gone, and left behind was that brownish greenish gooey grassy stuff that you can't walk on, and don't even like to look at. Is is spring already? Did I totally sleep in, for say, three months without even waking up to go to the bathroom? Is this what happens when all of the children surprisingly leave for sleepovers on the same night? Is this some kind of weather retribution for being allowed to watch whatever I damn well pleased on TV last night without hearing, "When does this end?" It's 46 degrees outside at 9:30 in the morning. HUH?
My final list of twenty "things" about me:
81. I don't like winter. ( How funny. I wrote this a long time ago and it ends up being posted in Winter on a day when the temperature will get over 50 degrees. I like the warm temperature today, but it's creepy)
82. I have asthma, and it is difficult to breathe in winter.
83. I love British television, movies, food, candy, etc. It reminds me of New Zealand.
84. I started going grey before I turned 18.
85. I am now 35 years old and I have been coloring my hair for 3 years.
86. Before I started coloring my hair, I looked like a witch, I was especially grey near my ears, and when I pulled my hair back, I had grey streaks. YUCK!
87. I can't wear lipstick because I bite it off.
88. I can't wear fingernail polish because I pick it off.
89. I don't like jewelry, except for rings.
90. I am not very feminine, except for my fiber related hobbies. (Less feminine hobbies include rustic camping, canoeing, fishing)
91. Billy Joel is one of my favorite singers. He was my favorite even in high school when it was really uncool to like him.
92. I love swing music and jazz music.
93. I love anything related to the 1930's.
94. I love big cities, but I live in a village of 900 people. I would love to move, but the children have a good school and good friends. Moving would also mean cleaning the house.
95. I always wanted three children.
96. I have two wonderful daughters.
97. I have endometriosis, and I haven't been able to have another child for 5 years.
98. I love my husband more than he knows.
99. I met my husband at work while I was in college. He was my boss. I thought that if I married him I would get a better work schedule and/or a raise. I didn't get either.
100. I love being a wife and a mother.
The end of a year brings about the typical reflections of what the New Year will hold, what I hope to do, and all of that. Sorry list haters... today's post is a list-a-doozy!
For 2005 I hope:
My husband finds a full time job. Not for the sake of the money (although it will make life better), but for his sake. The man needs to be employed again for his own sense of well being. He has been job hunting for over a year now. The market is flooded with counselors. SHAMELESS PLUG: If your school district needs an awesome school counselor, call. Seriously, he is great. We are more than willing to move for new jobs.
To do a lot of camping. In the canoe, on a river, in the Boundary Waters, national campgrounds, state forests, road trip, just CAMP!
To follow through with my swimming. First meet is January 16, 2005 in Oconomowoc, WI. (Pronounce that one if you are not a Wisconsinite!)
DH and I finally get more healthy - both eating and moving. We don't "diet". I promised myself as a child I would never go on a diet after watching my mother starve herself time and time again only to put all of the weight on again plus more. I'm into lifestyle changes. We gave up all red meat for three years, to lower DH cholesterol and it worked. Sort of. Then his kidney stones made our food choices even more difficult, so we started red meat again. Now I'm trying the South Beach lifestyle change. It is Day 2, would someone give me a BIG PIECE OF BREAD PAAALLLLEEEEZZZZ?
The last thing I hope is that my children be happy, have friends, and enjoy life. I hope the same for you!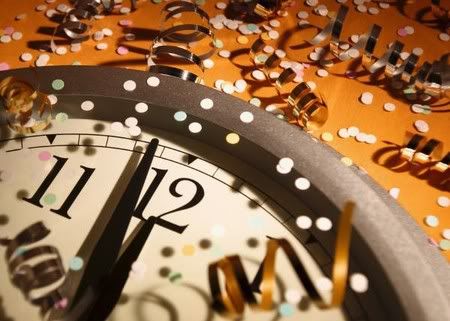 Happy New Year everyone!