The Perfect Weekend
Finally, a weekend that seems to be going my way! Our new life "up north" means a 3 ½ hour drive every Friday to go to our home "down south" and take care of our house and my in-laws. While it is exhausting, it feels good being able to help them out.
Once a month we stay up north, usually because of something our girls are involved in. This weekend was the weekend to stay in November. My youngest had her first swim meet here and we weren't sure how long it would go. Turns out that I also hit the jackpot because Sunday was the opening of women's college basketball, it was declared International Pajama Day, and???? Are you ready??? I was invited to RAVELRY!!!
Here's how the day looked from my vantage point…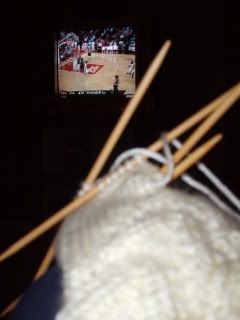 Heaven…
The girls have adjusted to the move here pretty well. DH loves being able to stay in the job that he loves, and I really like my new school. We have purchased land to build on and have the house plans all ready to go… just waiting for the house to sell in Valders.
To end the perfect day, my daughter and I had a hot beverage..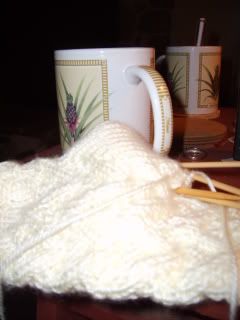 What a great weekend!