Cardigan waiting for Baby
Gail... don't look. Knowing my luck, you will pick today to wander over here and read my blog, ruining the surprise. If for some reason, you have remembered that I blog about my knitting and you have stopped by to see what kind of trash I am writing about today, please click on a link before it's too late! Don't come back here until after that baby is born. It should only be a few more days... and then I can give you this.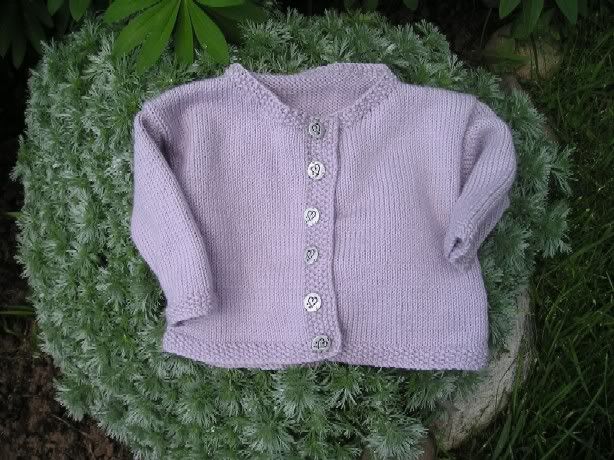 Finished Object:
Jacket with Seed Stitch Bands
From: Debbie Bliss'
Baby Knits for Beginners
Yarn: Debbie Bliss Baby Cashmerino in Dusty Rose, Dusty Lavendar or color 608
EMT (Emergency Material Technician):
Vicki
(your thank you note should go out in the mail tomorrow. I'm a loser... I am terrible at sending out cards and thank you's in a timely manner. Ask anyone in my family. They will rat me out)
Needles: Size US3 and US4
Date Started: May 5, 2005
Date Completed: May 29, 2005
My favorite thing: THE BUTTONS! Aren't they cute?
On such a gorgeous day, I decided to take a picture of my Lupines starting to bloom. These have transplanted themselves from another bed that is about 20 feet away. I wish that they bloomed all summer long.
On such a beautiful day, I hung out laundry on the line all day (some of it was from yesterday. Funny how clothes on the line in the rain don't dry, no matter how long they are out there!) I also found time to fold the laundry, cook some food, take a nap, and then go fishing with DH and the girls.
Alicia and DH were in the canoe, and Anna and I fished off of the dock. We caught 8 panfish (the last two were big enough to keep, but we let them go anyway. There is a lot of summer left). English Lake is about 5 minutes from out house. Actually there are about 9 or 10 lakes that are about 5 - 10 minutes away.
Happy Summer!