Finally.. PICTURES!
Well here they are… finally… as promised.
After a week, things have changed so much that most of the snow is gone, the ice on the lake is starting to seriously melt, but I dream of putting my canoe in here even more than usual.
When I get the chance… and have the ambition... this is what my spinning is looking like. With a nice fire and a clean house – you would think that I would be spinning my heart out, but I still can't bring myself to do much of anything. When this is done, it will be a shawl for my mother for her birthday which was, yes WAS... in January. She keeps bugging me and saying that she hasn't seen any patterns to pick from yet. Oops!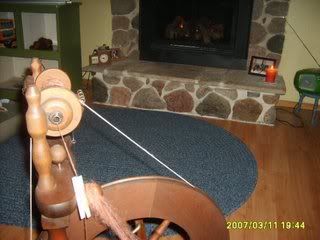 Here is another picture of my new home.. well temporary new home. I wish that I could keep the lake!