Mine, all Mine!
Well… here it is.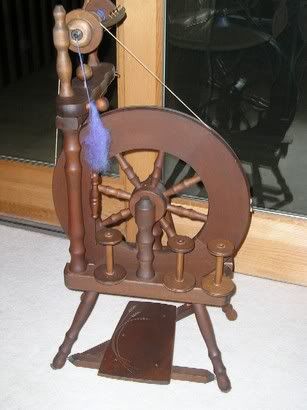 My very own spinning wheel, complete with a long dramatic, soap-opera like story. My oldest daughter told me that this wheel is perfect for me, and she's right. Here's why:
First, it's from New Zealand. It's an Ashford Traveller, and because I spent a year in New Zealand, anything from there is top notch in my book.
Next, it needed a bit of TLC. It belonged to a woman who was a spinner and a weaver, but she had been sick for quite awhile, and the wheel was pretty dirty. It looked black when I first brought it home. To be honest, I was a little disappointed when I first saw it because I had pictured the light colored modern style wheel in my mind. This black thing was a pretty far cry from my dream. But after some lemon oil and some elbow grease, the wheel showed off for me. It had some beautiful wood grain, that would never have been as beautiful in a lighter stain shade. The little bit of TLC that I needed to give made me feel like it was my own right away.
Also, I fixed it. Well, I had to break it before I could fix it. I guess the wheel was testing my devotion early on by being committed to breaking. The leather strap that connects the treadle to the arm (yes, it's that old that it has a leather part– and yes, I'm that dense when it comes to spinning wheel terminology) broke after I brought it home. To make a long story short, I made a new friend in a leather crafter from Neenah, WI and now I have a lifetime amount of leather – at no cost! She sure was a doll! I took the leather, and having absolutely no clue about what I was doing, went about fixing it. Amazingly, it works! You can see my new piece of leather in one of the photos. Go on, check it out! I also decided to replace the jumbo fly wheel with the standard fly wheel, and had to shorten up the drive band, but the was a no-brainer compared to the leather piece I had to cut, punch holes in, and fit into place so that the screws lined up with the holes.
And, look at the fancy detail on the treadle. I'm in love!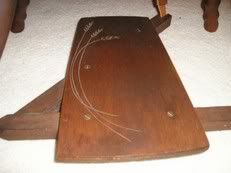 Lastly, this wheel is different, it has a story, and it is a bit old. My daughter pointed out that I appreciate all of these things, and she would never have expected me to, "go with what was currently popular" anyway. She was right.
I guess I'll have to knit her something from this.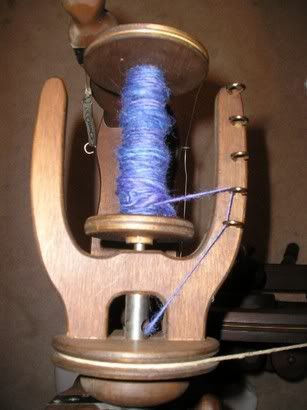 Then again, maybe not!
Who's laughing now.. Alicia!