Finish Line!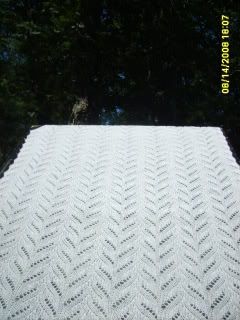 The Finished Object.
FINALLY!
I cast off last night and started blocking it this morning. The blocking board is too small so I will have to block it in two stages.
I finished ahead of schedule. It usually took me two weeks to finish one skein for this project, but that was during the school year, and now it's summer so I have a lot more time on my hands. Not to mention that both girls are gone for the week - one working at a summer camp and the other attending another summer camp. Can you say.... HEAVEN!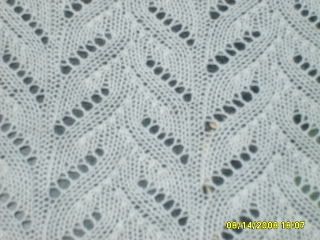 Finished Object Stats:
Girl's Cashmere Stole
Started - December 2006
Finished - August 13, 2008
Yarn: Spinnerin Cashmere Plus (Italian) - Cream - Fingering - 85% Cashmere, 15% Wool
Pattern: Took from a swatch in a book and repeated for desired width
Needle: Size 3
What I loved about this project: The yarn was so, so, so, sooooo soft and feeling the fabric drape on my lap as I worked was luxurious. Also, I managed to memorize the 12 row pattern, and could pick up easily even after the project had sat for several weeks or months.
What I didn't love about this project: White! working with white was scary! I dripped coffee on it twice and nearly passed out with fright that the stains wouldn't come out once I had found them. They did.
Another struggle was just finishing the sea of white lace. It never seemed to end!
Now... on to finish the clapotis!